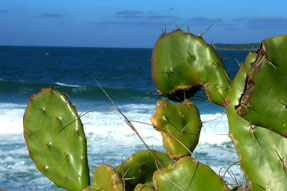 Today is thursday and my second week in Brasil is over. The last week was eventful. Christiane and I visited the National Theatre of Brasilia and listened to one of the composition of Beethoven and Mendelssohn. Furthermore we travelled to the wonderful island Florianopolis where I met Christiane´s family for the first time.
Since I m in Brasilia I didn´t undergo bad weather. Around 30°C and sunny days everyday. But it couldn´t be that nice everyday… but I had to travel 1400 km to experience a rainy day in Brasil. I arrived friday night at the airport of Florianopolis where we are welcomed by Christiane´s mother and brother which gave us a ride to our summer residence.
On the next morning i had to realize that we both were not the only resident of this home. A cockroach visited me during my morning routine in an artistic surrounding. OK!!! But not enough bad news: the first view out of the window was not good too… rainy day. But we know it exist no bad weather only inapt clothes.
So we discovered the island. The bad day couldn´t hide the amazing places of the island. Florianopolis exhibits lots of wonderful beaches on which mountains adjoin surrounded by the atlantic ocean.  But unfortunately in the sommer (winter) this wonderful place is so crowdy that is like an anthill.
The rest of the day we spent at home. I was introduced to family of Christiane.  The first question of Christiane´s dad was if I would like to drink a beer. So I felt like home… We had a great barbecue.
At night we went out and discovered the night life of Floripa. First we were in cinema and watched  "The Proposal" (Selbst ist die Braut). I can approve this movie – so funny. At night we went clubbing. Yet it was not a brasilian pub it was something like irish pub with great live-music.
Now in the winter normally the temperature are lower (around 5°C). Thanks to climate change we had amazing second day with blue sky and 20°C. We spent the whole day at the beaches where I am spoted as a great beachvolleyballplayer. Look here… amazing artistic ☺:
Now I m back in Brasilia and i prepare myself to discover the city of samba. This weekend I will see the famous Corcovado.  Lets see how the Cariocas are…
[xmlgm {http://picasaweb.google.com/data/feed/base/user/cesseling/albumid/5358855700239080209?alt=kml&kind=photo&hl=en_US} maptype=G_SATELLITE_MAP;maptypecontrol=hide;width=650;height=650;gpxview=all]